Learning the Dutch language
What are the best sites to learn free of charge?
One of the greatest levels of English competence in Europe is found in the Netherlands. Dutch speakers are fluent in English to the tune of 93% of them, and many of them also speak a third language like German or French. You'll see that the Dutch are highly tolerant of foreigners who don't know Dutch, and they'll typically switch to English to make things simpler for you. But having at least a basic command of Dutch is crucial for getting to know the nation and communicating with people. This is particularly true when talking with older people and outside of the biggest towns and cities.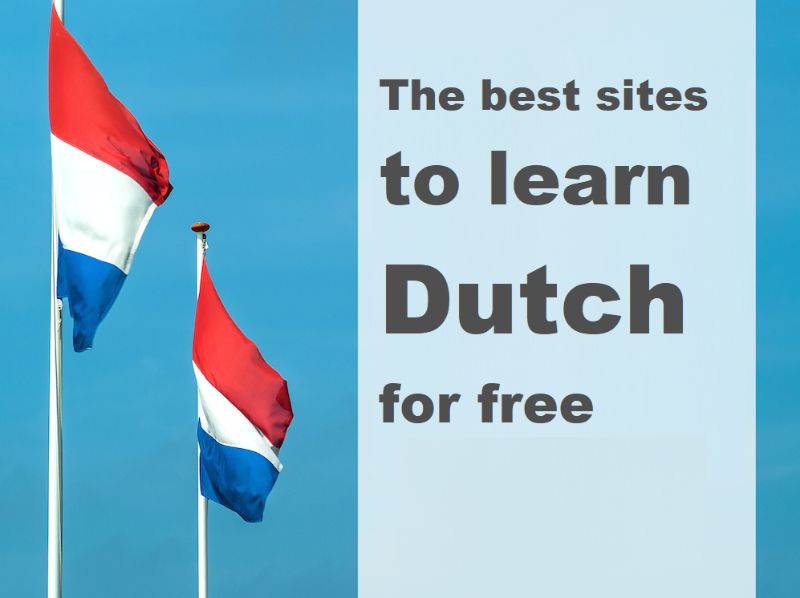 Dutch course types
There are language schools and courses accessible around the Netherlands. They include anything from formal language programs to social conversation circles and programs like My Local Friend that link you with a native speaker for one-on-one lessons. You won't have any trouble locating the Dutch course that's appropriate for you with the wide variety of options available. The alternatives are numerous, whether you want to learn the language quickly and intensively, speak Dutch in a friendly environment while learning about Dutch culture, or take sessions specifically designed for businesspeople. Numerous institutions have received CEDEO certification for their commitment to quality and client satisfaction.
Free lessons in Dutch
Even some free courses in Dutch are offered. The University of Groningen and other educational institutions, along with municipalities like the City of Amsterdam, provide free language programs to qualified participants.
1. The University of Groningen Dutch Language Introduction

This Massive Online Open Course (MOOC) is designed for people who have never studied the Dutch language before. According to the university, the course is intended for anyone who plans to visit the Netherlands or who wants to study the language more extensively.
The session lasts for roughly three weeks and includes instruction on how to introduce yourself and chat about your family and friends, among other things.
2. Duolingo
The fact that Duolingo is a well-known and well-liked language-learning tool that can be used on a phone or tablet is what makes it so popular. However, Duolingo may be used on a PC or any other device with an internet connection just as effortlessly.
Dutch is just one of the foreign languages that Duolingo teaches, and it makes an effort to divide each lesson into digestible chunks that may be finished daily for maximum benefit. You will study a range of distinct nouns, adjectives, pronouns, and verbs as you advance through the Dutch course. Additionally, you ought to become familiar with grammatical ideas like verb conjugation.
3. Verbix
Although the service offered by this website is extremely specialized, language learners should be aware of it as a valuable resource.
In particular, Verbix is a tool that conjugates verbs across a variety of tenses and in a large number of languages, including Dutch. Therefore, you can use this website to learn how to conjugate the past tense of the verb zijn (to be), for instance.
4. Dutchgrammar.com
Whether you're a complete beginner when it comes to Dutch or you have intermediate or advanced skills, Dutchgrammar.com features a variety of various grammar tools to assist you learn Dutch that can be a genuine help.
You can also listen to audio snippets on the website, which should help you enhance your listening comprehension of Dutch.
The most important thing when using websites to learn Dutch is to try and determine which websites are most beneficial for you. If you discover a website to be user-friendly and to have all the learning resources you require to advance your Dutch competence, you could want to use simply that website to learn Dutch.
5. Livemocha
You may study Dutch on the language learning website Livemocha. Playback of audio and video is supported for the Dutch language course. Learn the Dutch alphabet, numbers, phrases, and their pronunciation to get started learning the language. Once you've finished the fundamental classes, you can continue on to the more intermediate levels to master Dutch vocabulary, grammar, and sentence structure. One can pick up the Dutch language quite quickly with the aid of this free online course. You can earn coins while learning classes or use them to unlock lessons. Coins are given to you at sign up.

6. Loecsen
On Loecsen, you may study Dutch for free online. With the use of numerous conversational phrases, begin learning Dutch. There are several sections in the Dutch language course. The situations you might encounter while traveling to a location where Dutch is spoken have led to the division of these sections. These categories cover topics like Dutch numerals, colors, necessities, in a hotel, bar, airport, etc. Actual Dutch pronunciations can be learned through the audio playing. To study Dutch on the move, you can download PDF and audio files to your computer.

7. Digital Dialects
Another platform for learning various languages, Digital Dialects, provides an online option for learning Dutch. In this course to learn Dutch, there are 17 different modules available. You can learn many different things in Dutch using these modules, including words, numbers, vocabulary, time units, and grammar. You may simply learn Dutch pronunciations with modules that support audio. Games for learning the Dutch language quickly are a bonus.

8. Zeer Goed Dutch
Another free resource to study Dutch online is Zeer Goed Dutch. Learn the basics of the Dutch language before moving on to the intermediate and grammar modules. Here, you can also discover a course created especially for travelers. These modules are then split up into several lessons. Acquire knowledge of the Dutch alphabet, number system, vocabulary, pronunciation, and other elements. After you've finished the fundamentals, learn the advanced lessons. Playback of audio is fully supported on this website.

9. iLanguages
iLanguages is another free multiple language learning website, where you can learn Dutch online. Learn from different modules which will teach you Dutch vocabulary, phrases, and grammar. Check out the Flashcards and Quiz section to practice. Supported by audio playback, the modules will teach you to pronounce Dutch perfectly. This is a perfect place to build a good base in Dutch language.
10.

Goethe-Verlag
Goethe-Verlag offers free language instruction in Dutch. This is the ideal site for novices who are studying Dutch because it has 100 classes. These lessons on Dutch include phrases that are used in a variety of contexts. Grammar in Dutch can also be learned here. This website assists you in learning Dutch pronunciations quickly and is entirely accompanied by audio.

11. LearnDutch.org
LearnDutch.org is a dedicated website to learn Dutch for free. Find 40 lessons here, fully supported by audio and videos. Each lesson has tutorial video, and a list of vocabulary with examples. These lessons begin with basic introduction of Dutch language, and move on to advanced level, like Verbs, Moods Adjectives, Adverbs, etc.

12. Taal Thuis
Taal Thuis has extensive resource to learn Dutch online. This is another exclusive website to Learn Dutch. The course is divided into three modules:
Introduction: This is the homepage of the website. It welcomes you with some text, and an introduction video.
Beginners: Divided into 10 lessons, this module helps you with building the basics of Dutch language.
Intermediate: Move on to this module when beginners module is complete. It has 10 lessons in advanced Dutch.
Extra: Learn Pronunciation, numbers, colors, food, etc.
Theory: Learn how to use pronouns, construct sentences, and much more.
Verbs: Learn various types of Dutch Verbs, and their general usage.
Tests: Take the beginner and intermediate tests. You can also take other tests that are available to brush your skills in Dutch language.
13. ieLanguages.com
At ieLanguages.com, there are 70 lessons for learning the Dutch language. These lessons' audio reinforcement makes it quite simple to grasp Dutch. With examples, learn the fundamentals of Dutch conversations, grammar, pronunciation, and more. Start listening to the audio after selecting a lesson; it is timed to match each module. The audio can be played repeatedly at any time.
14.

SpeakLanguages
Learn Dutch for free with SpeakLanguages. On this website, you can learn Dutch vocabulary and phrases. Numerous classes are broken down into categories, including: numbers, colors, families, days, etc. This Dutch course allows you to go at your own pace. Visit the Language Partner section, where you can choose a companion who speaks Dutch. Interact with the individual to gain more knowledge of Dutch.

15.

ToLearnFree
Learn Dutch language for free at ToLearnFree. Learn Dutch online from 50+ lessons on this language learning portal. You can take a Placement Test to evaluate your knowledge in Dutch language. Begin learning Dutch with Dutch alphabets, numbers, and vocabulary. When you have learnt the basics of Dutch, move on to Dutch grammar, phrases, sentence formation, pronunciation, etc. Look out for exercises and quizzes to polish your Dutch language skills.

16.

Wespeke
Wespeke is an innovative online language learning platform where you can learn Dutch. Find someone and chat to learn a language. You have to set filter for a language you want to learn, your native language, age group, country, etc, and Wespeke displays members according to your preference. Select any online member, and begin to chat. Add the members as friends to your profile. This is the best, and an interactive way to learn Dutch online.
There is no right or wrong way to study a language, thus the most crucial thing is figuring out what method suits you and staying with it by practicing and revising frequently.