Recruitment agencies in the Netherlands that recruit from non-EU countries
What are the recruitment agencies that can employ non-EU citizens?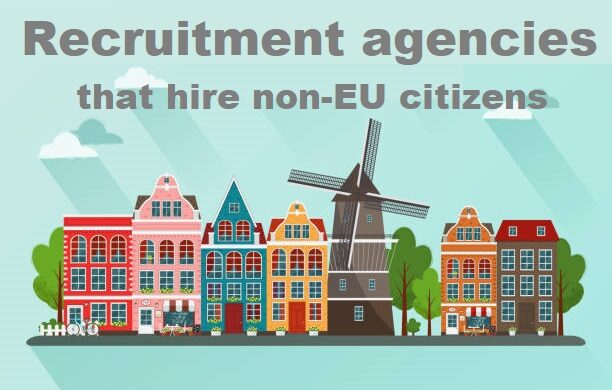 30 comments
- Recruitment agencies in the Netherlands that recruit from non-EU countries
Kibudde Ahmed salim - June 2, 2023 at 7:45 pm
Am here interested to work in Netherland area's.i request if there's chance,am interested.
vinod Kumar - June 2, 2023 at 8:06 pm
Dear Recruiter,
I hope you are doing ,
i am vinod from india and looking a challenging task as warehouse worker, could you please help me
Lokanath - June 2, 2023 at 9:40 pm
I am interested in working Netherlands. Please help
Jecinta Mugure - June 2, 2023 at 10:29 pm
I am 20 years from Kenya and I am searching and inneed of a job opportunity
Gopathi thirupathi - June 5, 2023 at 7:39 am
Sir,
Good morning. My name is thirupathi. Iam from India. Iam looking for work permit visa jobs.
Now iam working in water and wastewater analysis job. It's a environmental laboratory water analysis job. Any recruitment from India now iam interested to come nedarland.
Thanks.
kamaljit singh - June 5, 2023 at 2:06 pm
dear Recruiter
i hope you are Doing
i am kamaljit singh from india and looking work for warehouse plz hlelp me
Mechela Pellero - June 5, 2023 at 2:28 pm
Looking for a job po, I'm a fresh graduate from a 4 yrs course of Bachelor of Science in Entrepreneurship. 24 yrs of age, I'm still in Samar but I'm willing to relocate as soon as possible when theres a job opportunity for me. I was working as a cashier before and also a staff of a beauty products. I will surely work with love, perseverance and hard work. I studied also as a Information communication Technology during my senior high school. I have my passport already. Thank you and god bless❤
Janet Malingan - June 5, 2023 at 9:33 pm
Im a midwife and e Certified Emergency Medical Technician here in the Philippines. I want to apply for any job in Netherlands
Abraham - June 5, 2023 at 11:04 pm
I graduated from university of England, Advanced Diploma Shipping and logistics
Carol Gin Combatir - June 6, 2023 at 12:31 am
Hi, any vacant work related in customer service representative and sales assistant i would be happy to apply.
Rakesh Vishwakarma - June 6, 2023 at 5:58 am
Hi, I am working in consumer durable industry as Manager Customer Service and Service Operations Management, having 11 years of experience. Please let me know any suitable job opportunity.
Cynthia - June 6, 2023 at 11:55 am
Hello , my name is Cynthia. I live in the Netherlands already please let me know if you have a job , especially in Overijssel
YUEH MING TENG - June 6, 2023 at 1:24 pm
Hi hiring team,
I am from Taiwan and look for a junior software developer, java developer job in the Netherlands.
If you have any interest about more my profile, please connect me with the email.
Best Regards,
YuehMing, Teng
Moenna Shiva - June 6, 2023 at 11:27 pm
Hi i am from Suriname( South America) and i would like to work in the Netherlands. can i get a chance to prove myself. I am interested as a bartender. waiter . or Aggriculture work. or also i have experience in the offshore . i have worked as Utility steward.
Jorge Pinto - June 7, 2023 at 7:34 pm
Hello good afternoon my name is george pinto ,im currently living in spain .but im planning to move soon to netherland .
Shaik Dada Basha - June 7, 2023 at 10:02 pm
Respected dear recruiters
Hello . How are you
Have a great day
My self shaik Dada Basha from India
I'm looking for a driver job
I'm a light vehicle driver
I have Indian driving licence. And one year experience in driving filed i have. Thank you very much . Reading you my message.!
Ntshadi Olowolagba - June 10, 2023 at 11:08 pm
I am a former Teacher, former Town Planning Technician and a former Manager. I have a driver's license and have a wealth of experience in management. I can work in any capacity & ready to relocate.
Ammar - June 12, 2023 at 4:49 pm
Hello, my name is Ammar from the state of Iraq. I want to travel to work in the field of agriculture. I have five years of experience. I work hard in agricultural work, but I hope you will help me in that. Please send me a work contract so that I can travel to you and work. I am ready to travel at any time.
Rogelio D. Abello Jr - June 14, 2023 at 3:12 pm
Ma'am / Sir,
May I respectfully signify my interest in applying for Safety Officer/Safety Inspector positions that would fit my qualification.
I believe that my experiences as an HSE Officer/Inspector here in Qatar Electricity and Water Company for total of 8 year.
And also as a Health Safety and Environment Supervisor for 3years, in my past company which is the Keppel Subic Shipyard Inc., Will be an asset that I can use not only in the area of supervising but also in the field of inspection.
Moreover, my experiences in " Construction of Malampaya Phase 2 & 3 project of Shell Philippines Exploration B.V (SPEX) Malampaya Depletion Compression Platform Project (MP3)", has given me a valuable background in the Oil Rig Platform Construction and Depletion Project which could be used in further rationalizing company's Health Safety and Environment.
In this regard, I am attaching my CV which presents my other qualifications, for your evaluation.
I will be very glad to report soonest not only for an interview but also to demonstrate both my supervising abilities and Inspection Skills. I can be best contacted through my mobile phone
number, +974 70788991/+974 55088408, and my e-mail address,
[email protected]
Looking forward to work with your company.
Very truly yours,
Rogelio D. Abello Jr.
Pipat Pacharapakornkul - June 18, 2023 at 5:30 am
i am thai male 29 years old i want to work in nertherland
Anoop Mehra - June 27, 2023 at 10:51 pm
Ma'am / Sir,
May I respectfully signify my interest in applying for any warehouse forklift, off shore positions with rig Co.

I have experience to work with Dubai shipping company as cargo ship navigation , deck cadit on oil ship.
Having forklift driver certificate and work experience. Familiar with European driving as I had driving experience in UK. Presently running a cab Co. In india..looking forward to work in any warehouse or shipping company who can provide visa sponsorship.

Looking forward to hear from you.

Regards,
Anoop Bharti mehra
+91 987 164 317 4
Amith Silva - June 29, 2023 at 8:07 pm
Hello
I am looking for a job with accommodation. 17 years of experience in Shipping & Logistics (freight forwarding) + Warehouse. could you please provide the any suitable post if you have. no need job position.
Looking forward your feedback.

Have a Good day!
Dibya chhasa rai - July 9, 2023 at 9:54 pm
Hello
I am from non eu country how can I apply for work permit and a visa?
KIRAN Rokde - July 13, 2023 at 7:38 pm
Hello
I am looking for a good job opportunity in Netherland as I am getting to marry soon and my fiance
is Dutch citizen, I have 20+ years of experience in Sales and Marketing in IT - Telecom hardware & services software & solutions and eCommerce services managing channel, distribution and direct clients (SMB/Enterprise)

Please provide the any suitable post if you have. no need job position.
Looking forward your feedback.

Have a Good day!
Charmane Talledo - July 26, 2023 at 10:09 am
I am from Philippines but currently working jn Hungary. I am intereseted to apply in Netherlands. Thank you
Saber Mohammed - August 19, 2023 at 11:24 pm
Hope you are doing well !

My name is SABER MOHAMMED

I am a business development executive residing at saudi arabia for more than 13 years and looking for a job in Netherlands to promote products in Middle East region.

Saudi Market is booming with a vision of 2030 and i am selling construction related materials in middle east markets to B2C and B2B market in middle eastern region.

Would you please help me to touch in with those companies looking to promote the products in middle east region.
Izanne van Rijn - September 5, 2023 at 7:36 pm
I am a registered nurse (BCur nursing science) obtained in South Africa. Currently seeking a nursing position in the Netherlands.
Michael Thwaites - September 21, 2023 at 7:47 pm
I am a trained Hairstylist and also capable of working in the hotel industry as a guest service agent.
I live in curacao as a legal Jamaican national and would like to live and work in the Netherlands.
Alexander - September 27, 2023 at 4:34 pm
Hello! I am a history teacher of the indigenous peoples of Siberia.
Md Jahid Hasan - September 28, 2023 at 12:23 am
I need a job could you give a job please
Leave a reply