Casino Croupier - work in the Netherlands
Do you like the 'game', are you a real team player and do you want to give the guests an incredible night?
We don't need to tell you that working in hospitality is the best job, because you already know all about it. You feel at home in a lively and dynamic environment and you use your passion and talent to create, together with your team, the ultimate entertainment experience fort he guests!
We are looking for a casino employee (all-round croupier) and offer a professional working environment with a real casino atmosphere. We are hospitable to our guests and our employees.
Responsibilities:
Act as a game leader (croupier) for various games including American Roulette, Black Jack, Poker, and others

Perform game technical operations associated with various games

Provide excellent guest service by explaining game rules and answering guest questions

Handle cash and chips and ensure game security and integrity

Ensure a smooth and professional game flow and resolve any disputes that may arise

Collaborate closely with colleagues to deliver an unforgettable experience for guests
Qualifications:
At least 1 year of experience in the same position

Good mathematical skills

Guest-oriented attitude and good communication skills

Good oral command of English

Competencies: collegiality, pro-activity, willingness to develop, and flexibility

Recognize and embody core values of hospitality, safe and responsible, highest quality, and A-brand
Benefits:
Gross hourly salary of €18,91 per hour including shift premium

27.5 days of vacation based on a 36-hour work week

8.3% vacation allowance

Private accommodation

Career opportunities with ongoing training and coaching to develop skills

Possibility of permanent employment

Learn skills that will be useful for the rest of your life
If you are a team player with a passion for creating unforgettable experiences, we encourage you to apply for this exciting opportunity in our professional working environment with a real casino atmosphere.
APPLY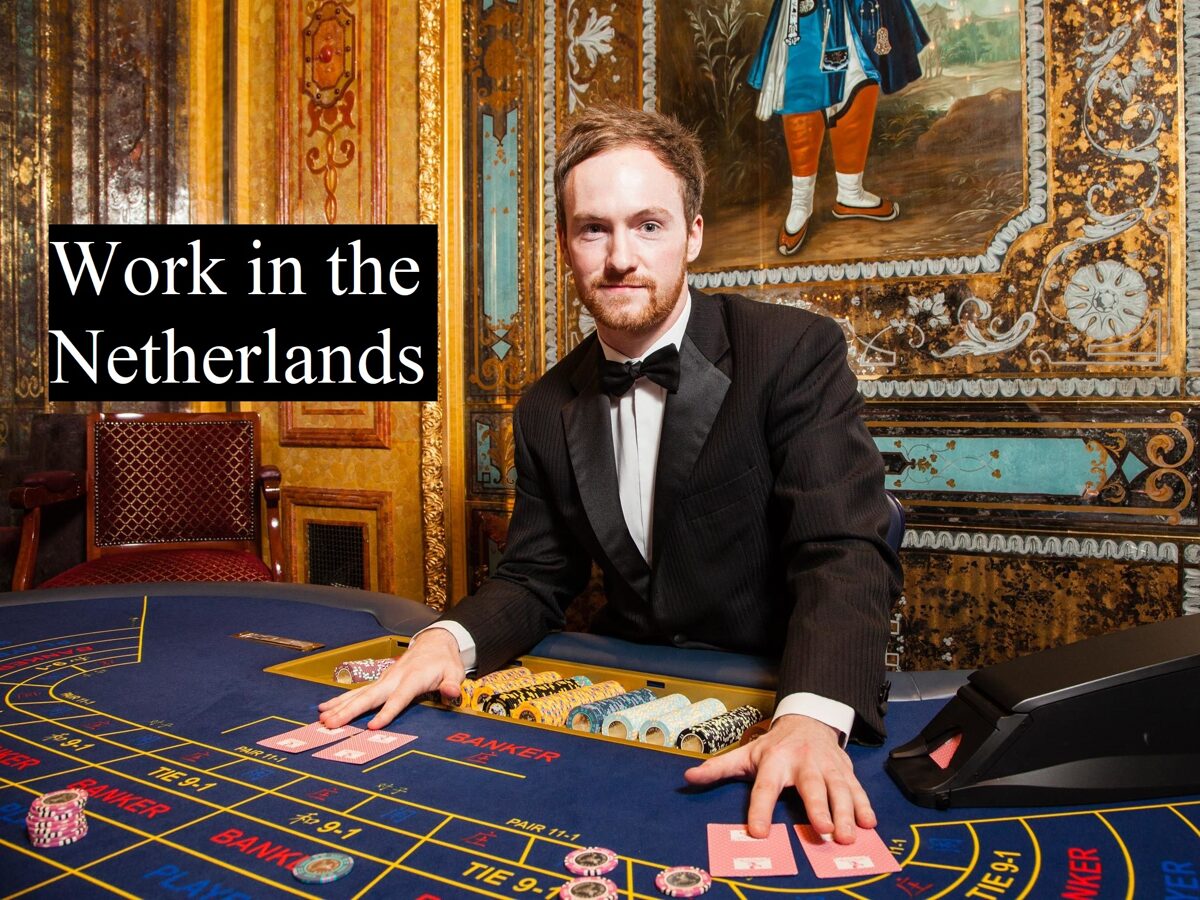 9 comments
- Casino Croupier - work in the Netherlands
Andrea Portik - May 9, 2023 at 1:42 am
I would like to know more about this job
Varinder kumar - May 9, 2023 at 3:19 am
Hello good morning. I would like join your group . Thank you
Panagiotis Voulgaris - May 9, 2023 at 8:02 am
I am interested i am from Greece
Forget - May 12, 2023 at 12:44 am
I been working in a casino as a man in black, security department in South Africa, I would love to work for you in the same field if there is any vacant
Andreas Nikolaou - May 15, 2023 at 6:08 pm
Hello. i am interest for the job.thanks.But i dont have the expiriense.
Adéla - May 15, 2023 at 6:39 pm
Hi, i would love to work for you, i have no experience tho.. but i am a fast learner. Thank you :)
GABRIEL ADEDE - May 16, 2023 at 5:02 pm
Dear Admin wish to choose me am willing to work with you
Dimitra Giovani - May 17, 2023 at 2:45 pm
Dear Mr/Mis,

I'm looking to make my internship and i belive that there I will learn really interesting things.
My sector is organization and business administration.
Hope hear from you soon.

With kind regards
D.Giovani
Chuddary Azhar Iqbal - May 19, 2023 at 11:10 am
hi Sir I Needed Jobs Gernal Work thanks
Leave a reply